Hotel Updates
Hotel Room Refresh - Beginning November 2021
The Pearl Hotel's 55 guest rooms will be getting a full refresh, with work planned to begin in November of 2021 and finish spring 2022. The work will be carried out floor-by-floor to limit any inconvenience, and in most cases guests will not notice the activity taking place. The planned room refresh is being overseen by Duncan & Miller Design of Dallas, Texas, the firm that created the original plans for The Pearl Hotel. More recently, they renovated the Havana Beach Lounge, part of the Pearl's signature restaurant, Havana Beach Bar & Grill. Initial plans call for new flooring and brighter, more modern interior design choices to create a lighter and more tropical atmosphere.
Once completeld, guests will be able to enjoy the following in our newly refreshed rooms:
Updated color palette of orange, blues and emerald, will bring the colors of our coastal setting directly into the hotel.
New flooring and area rugs paired with new custom window treatments will bring a coastal elegance and easy livability to each room.
A beautiful marble-topped café table and custom chairs will be added to each room, providing the perfect spot to enjoy breakfast or dinner from Havana Beach, or catch up on a bit of work.
Individual Wi-Fi access points in each room, along with state-of-the-art in-room video and audio options will make each guest space even more functional.
Preview photo of the planned 2021 room refresh design concept of standard guest king room at The Pearl Hotel. Final interior design may differ.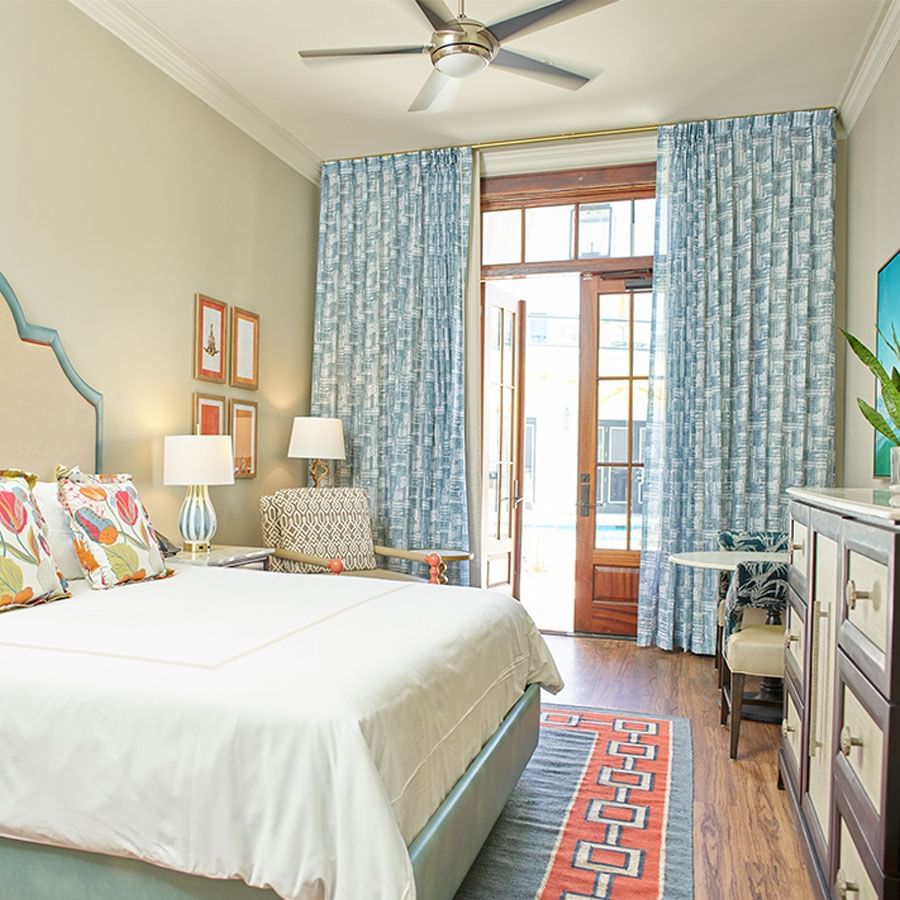 Hotel Health and Safety Updates
To Our Pearl Hotel Guests:
We're Looking Forward to Welcoming You Back! Taking care of one another – that has long been The Pearl Hotel way. And like the rest of the country, we are getting used to a new normal of living – and traveling. As we reopen our doors, our promise to you remains the same: a hospitable, comfortable, beautiful and relaxing stay for you and your loved ones.
We are currently accepting reservations and are extending refundable rates for new bookings based on the hotel's standard cancellation policy, which is two weeks prior to arrival. If you are within two weeks of arrival, cancellation will be determined on a case-by case basis. Given the fluidity of the situation, we will continue to adapt our procedures as needed. Please refer back to this page frequently for the most up-to-date information.
New Normal. Same Hospitality Promise.
We stand ready to serve you during these unprecedented times in the best way we know how: with the same hospitality excellence you have grown accustomed to. The safety and well-being of our guests and of our team members remains our top priority.
OPERATIONS UPDATE
We continue to uphold the highest sanitation and guest-servicing standards for our Forbes four-star property. In accordance with Florida Governor Ron DeSantis Executive Order signed on May 3, 2021, face masks are now optional for our guest and associates. Additionally, we have adjusted our hotel operations in accordance with guidelines and recommendations from the CDC and State of Florida, including but not limited to:
Enhanced property-wide sanitation procedures and frequency

Full Housekeeping and Turndown Services are once again offered to all guestrooms during their stay

Bell and Valet Service are operating normally from 7 a.m. until 11 p.m., daily

The hotel Business Center is open 24/7, daily, with the concierge desk operating from 9 a.m - 5 p.m., daily

Distanced seating in pool areas and at hotel restaurants

Making mask and gloves available to guests, upon request

Continued Covid-19 training for all team members
BEACH UPDATE
Walton County beaches are fully open.
AMENITIES UPDATE
The following amenities are currently available to guests at The Pearl Hotel:
The Pearl's Adults Only Pool (for guests ages 18 or older) is open. Loungers are pre-placed in sets of two and are available on a first-come, first-served basis. Beverage services are available from 9 a.m. - 5 p.m., daily.

The Pearl's Hot Tub (for guests ages 18 or older) is open; however, due to limited space, no more than 6 people will be allowed to occupy it at any one time.

Spa Pearl is open 9 a.m. - 5 p.m., daily. For appointments, please call (850) 460-9041.

Watersound Beach Club is open daily from 8 a.m. - 9 p.m.

30°86° & Sunset Bar open daily from 11 a.m. -9 p.m. (food available until 8 p.m.)

Beach Break Grill open daily 11 a.m.- 7 p.m. with daily happy hour 4-6 p.m. and live music Wednesday-Saturday from 5-7 p.m.

Pool Deck beverage service is currently unavailable.

Beach Services/Beach Chairs are available daily from 9 a.m.- Sunset; Beach Bar is open daily from 11 a.m. - 5 p.m.

Kid's Room is open daily 11 a.m.- 5 p.m.

Mercantile retail is open daily from 9 a.m.- 6 p.m.
The below Rosemary Beach® Community pools are open daily from 9 a.m. –5 p.m. (weather permitting)

Origins Golf Club is open for public play, from 7:30 a.m. - Sunset, Monday- Sunday (The course is closed on Wednesdays for course maintenance). Footgolf is available after 1 p.m. Tee times are recommended by calling 850-213-5090.

Private golf courses, Camp Creek and Shark's Tooth, are available to Pearl hotel guests during limited hours; tee times are required in advance and are based on availability by calling 850-231-7601 (Camp Creek) or 850-249-3041 (Shark's Tooth).

Complimentary bicycles are available for guest use on a first-come, first-served basis.

Complimentary kayak and canoe rentals are available through the WaterColor BoatHouse from 10 a.m. – 3 p.m. for one hour. Reservations required by texting (850) 419-6188.
DINING UPDATE
In Room Dining is available from 9 a.m. - 9:30 p.m. Orders may be placed up until 9:30p.m viain-room iPads provided in each guest room.
Havana Beach is seating at full capacity for parties of 6 and under; open daily. Offering a Brunch menu from 8 a.m. - 2 p.m. for hotel guests and 9 a.m. - 2 p.m. for general public. Dinner is available from 5 p.m. - 9 p.m. Bar & Lounge area is open from 11 a.m. - 2 p.m. & 4 - 10 p.m. with limited food service. Dining Reservations are not accepted; seating is based on first come, first served basis. All guests must be seated by the host stand.
Havana Beach Rooftop is open from 11 a.m. - 8 p.m., Wednesday- Sunday (weather permitting). Entree food service is available from 11 a.m. - 3 p.m. & light food options availble from 6- 8 p.m. Last call for drinks will be at 7:45 p.m. All guests must be seated by the host stand. This area will maintain physical-distancing guidelines, maximum party size will be limited to 8 people, and seating is based on a first-come, first-served basis. Bar seating is available for guests; however, standing at the bar is not allowed in order to maintain social distancing.
Poolside Beverage service is available from 9 a.m.- 5 p.m., daily.
For the most updated COVID-19 information, including travel advisories and suggested precautions, please refer to the U.S. Centers for Disease Control (CDC).